Explore one of England's most beautiful Royal Parks all year round with a carriage ride from the Savill Garden, Englefield Green.
Magnificent 16 hand white horse for Asian wedding processions.
We provide horse drawn carriages for Weddings, TV/Filmwork & Royal Ascot.
A relaxed ride in beautiful scenery with a very professional carriage ride company. A memorable experience.
Booking process was very straightforward and service was excellent. Jo and her colleague were very knowledgeable, giving us lots of facts etc about the park and it's history, and we especially liked Henry! A lovely morning – would thoroughly recommend!
Very friendly and informative throughout the journey around the beautiful royal landscape in Windsor Great Park. Pulled along by the wonderfully gentle horse Henry. Highly recommended for any occasion.
WHAT'S ON
To book a Carriage Tour of Windsor Great Park please call Joanna 07811 543019
We are now scheduling our Spring/Summer dates, if you have a special occasion/date in mind please let us know.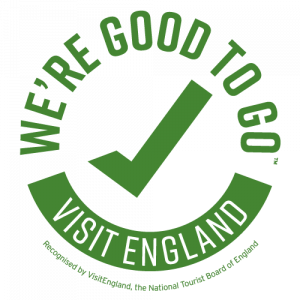 We're Good to Go! 
Reservations in advance recommended as trips are limited.  There's nothing to pay until the day, as all rides are weather permitting, and we contact you the day before to confirm we are running.
VIEW CALENDAR
---
Covid 19
Safety/Welfare of Guests & Staff is our priority.
Setting & Operating Times
This is an open air attraction, the horse drawn carriage is open topped, with front facing seats for the Driver/Groom, and lower side facing seats at the back for passengers.
Operating on selected weekdays Mon to Sat between 10.30 am & 2pm
Booking & Payment
1. Pre-booking essential, nothing to pay until the day.
2. Lead guest contact details are recorded, plus date & time of ride
3. Contact less payment by bank transfer or cash accepted
Social Distancing
1. Carriage Driver/Groom seats at front face forwards, sit side by side, face masks are worn on request.
2. Guests sit in 4 back seats side by side, a metre from carriage driver.
3. Hand Sanitiser is provided for guests to use if required
4. Capacity: Couples, Families & Groups up to max 4 adults or 2 adults/3 children, 3 adults/2 children according to weight.
Sanitising/Cleanliness
1. Carriage handrails/touchpoints are sanitised between rides
2. Guests are welcome to bring there own champagne for special occasions
If you need further information or wish to book, please contact Joanna 07811 543019, text or email info@ascotcarriages.co.uk
---
Tours start from Savill Gardens, TW20 0UJ.  4 miles south of Windsor town.  There is plenty of parking, and inside The Savill Building, are toilets, Cafe, Gift shop & plant sales. The carriage can be found one minutes walk to the right of Savill Building by the Cream House and shady Oak Tree, our Horses Crossing sign is there.
Romantic Wedding Proposal Rides You can 'pop the question' by the lakeside. We stop at a hidden 18th Century Lake in the Heart of Windsor Great Park for you to take a stroll to the Georgian Footbridge. (google Cow Pond The Queen for stunning pictures & history of this beautifully restored lake, dating back to 1604)  Call Joanna (07811 543019)  to arrange the surprise, and if we can't operate because of the weather, there is a 'B Plan' another lovely place by the waterside inside the Savill Garden.
Visit BBC IPlayer  Flog It with Paul Martin, see Series 10 Reversions Episode 2 Wellington College.  Delwyn the horse in action on our tour with Paul.  He has fond memories as a child visiting Windsor Great Park, this time by a comfortable horsedrawn carriage on a lovely Autumnal Day!